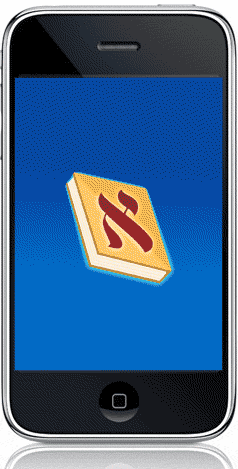 I like to highlight useful widgets. I spoke before of library gadgets, and innovative ways to use gadgets in a workplace.
Today I will highlight an iPhone application that has been brought to us by Barry Schwartz based on a religion. I will also highlight the motivations and ideas that are behind virtually every useful and successful widget.
iPhone Siddur / Zmanim
This iPhone application is a Jewish Prayer book with some great functionality that I want to talk about. This app is described as…
Take your weekday siddur with you with this feature-packed Jewish prayer book. You'll get Ashkenaz and Sfarad vesions of davening, including weekday Shacharis, Mincha, Maariv and standard Brachos. Real time Zmanim will give you the prayer times for each day based on your location determined with the iPhone's GPS. A mizrach (east) compass will show you which way to pray, will be released soon.
This is an extremely useful gadget for the Jewish community. Let's take a look at why this widget is useful, and pay some attention to the features of this widget to highlight the way to think when you are creating one.
Content
This widget has useful content. I am not Jewish, and can not well describe Jewish faith practices but let's widen our perspective to religions in general.
Many religions have "content" that is used universally by the followers of that religion. Religions often have rituals as well. The creator of this widget has included the text of the prayers for reference in this iPhone app.
This to me is a great example of thinking of your users, which is the most important thing you can do when you create a widget. Providing information is often the "heart" of a widget. When you are deciding if your content would make a good widget, think about who will use that widget. Then think about why they will use it. This widget passes my "who / why" test. It is clearly useful content, and it provides that content in a format that is useful when a user is on the go.
Time
The use of time is important in widgets. Often the reason a widget is a widget at all is the concept of time. (daily quote, clock widgets, hourly report, etc.) This widget uses time because time is important to it's users as some prayers are said at certain times.
By thinking about the platform your widget will be used on, you can really tweak alot of capabilities. Widgets made on the iPhone platform should use the functionality of the iPhone to help your users.  In this instance, Barry has tied in the functionality of the clock, and the concept of time for his gadget.
Location
Use of location is the newest and most exciting functionality of widget capabilities. iPhones have GPS, and this widget uses location data in a way that is useful to it's users.
Another neat location functionality that is useful to some religions is the concept of direction (east, west,etc.). This widget plans to incorporate a compass feature. The major mobile platforms have a compass feature. This is a great idea to use that functionality.
Motivation
Why are you creating the widget?
If you are creating a widget that somehow helps you, then the odds are that it will help others as well. Think about how something can fulfill a need, ease a common task, help communication, or entertain. These are the basics reasons why widgets and applications exist.
Think about why someone would even use your gadget in the first place. That is the most important thing you can do. Before you even start a widget campaign, make sure that whatever you are creating is useful to someone. If it isn't, your widget campaign will likely fail.
It is about people. Why would people choose to use your widget?
More info on the Siddar iPhone Application:
Learn more about the Siddur / Zmanim iPhone app.
See the Siddur / Zmanim in the iTunes Apps directory. note: this link opens iTunes.
See the Siddur / Zmanim Google group.
Another article about useful gadgets:
Useful gadgets are better than Viral Gadgets.